QuickShaper
QuickShaper (QS) an experimental computer utility for Shape Grammars. It aims to assist designers and students in creating and exploring rule-based designs. QS is first presented and published with Birgül Çolakoğlu at the 25th eCAADe Conference held at Frankfurt / Germany in September 29th, 2007. QS is a scripted utility, written in MaxScript, developed within Autodesk's 3D Studio MAX version 9. It is not tested on earlier versions. QS works well with Max Design 2011 after modified 1.80 version.
This tutorial document [PDF File] presents the basic features of QS. Also you can read our eCAADe 2007 paper titled "QShaper: A CAD Utility for Shape Grammars" here: [PDF File]
No other plug-ins and platforms are needed to run QS. Only one script file should be executed within 3D Studio MAX. All testing feedbacks are gladly welcomed. If you encounter a bug, or have an opinion about it's future development, you can e-mail me. KNOWN BUG: QuickShaper 1.55 works properly on 3D Studio MAX versions 9 to 2009 Design. It is a known bug that the script cannot display button images in 3D Studio MAX 2012. We are working on that issue.
Edit: It is fixed now!. After 2011, maxScript requires an alpha variable for button objects, I added a dummy alpha value to buttons to they appear now. Here is the version that works on versions after 3D Studio MAX 2011 : [MSE File: MaxScript 2011]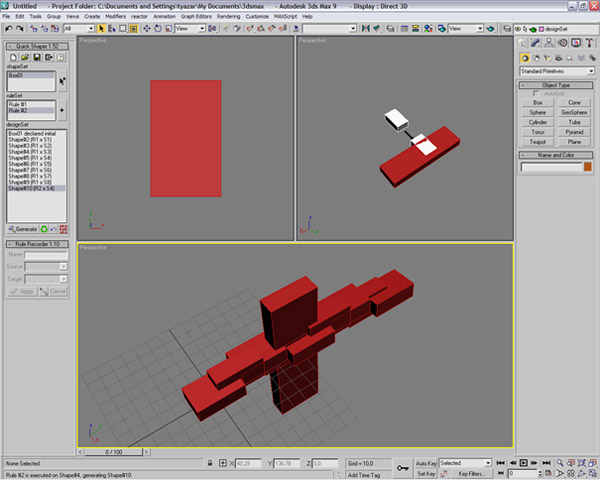 For more information about Shape Grammars, please visit www.shapegrammar.org. For further information about the conference, please visit www.ecaade.org, or cumincad.scix.net.